NAD C298 Stereo Power Amplifier
Designed for use in everything from conventional hi-fi and home cinema systems to hideaway custom installations. It has single-ended and balanced inputs for flexibility, and switchable signal-sensing for remote operation, while its energy-efficient Purifi Eigentakt amplification technology gives it the ability to drive just about any speaker with impunity. The sound is spectacular, and upgradable too – switch it into bridge mode, and you have a 600W+ monoblock!
Review - Best Power Amplifier 2021- 2022 - EISA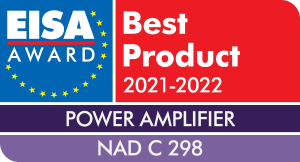 The amazing new Eigentakt™ (self-clocking) technology which was recently introduced to the world in the EISA Award winning Masters M33, is now available to a wider audience with the very affordable C 298. It is a perfect companion for the C658 BluOS Streaming DAC pre-amp.
Specifications
Rated output power into 8 Ohms and 4 ohms(Stereo mode) 80 W (ref. 20 Hz-20 kHz at rated THD, both channels driven)
185 W at 8 ohms
340 W at 4 ohms
Rated output power into 8 Ohms (Bridge mode, ref. 20 Hz-20 kHz at rated THD, both channels driven)
620 W at 8 ohms
THD (20 Hz – 20 kHz)
<0.005 % (1 W to 185 W, 8 ohms and 4 ohms)
Signal-to-Noise Ratio
>98 dB (A-weighted, 500 mV input, ref. 1 W out in 8 ohms)
>120 dB (A-weighted, ref. 185 W out in 8 ohms)
Clipping power (Stereo mode, at 1 kHz 0.1 % THD)
>200 W
Clipping power (Bridge mode, at 1 kHz 0.1 % THD)
>690 W
IHF dynamic power (Stereo mode, at 1 kHz 1 % THD)
8 ohms: 260 W
4 ohms: 490 W
2 ohms: 570 W
IHF dynamic power (Bridge mode, at 1 kHz 1 % THD)
8 ohms: 1000 W
4 ohms: 1100 W
Peak output current
>25 A (in 1 ohm, 1 ms)
Damping factor
>800 (ref. 8 ohms 20 Hz – 6.5 kHz)
Frequency response
±0.2 dB (20 Hz – 20 kHz)
-3 dB at 60 kHz
Channel separation
>100 dB (1 kHz)
>80 dB (10 kHz)
Stereo Mode input sensitivity (for 185 W in 8 ohms)
Fixed Gain mode: 1.43 V
Stereo Mode Gain
Fixed Gain mode: 28.6 dB
Line In – Balanced and Single-ended
Variable Gain mode: 8.5 dB – 28.5 dB
Bridge Mode Sensitivity
Fixed Gain mode: 3.78 V for 620 W in 8 ohms
Line In – Balanced and Single-ended
Variable Gain mode at maximum: 1.41 V for 620 W in 8 ohms
Bridge Mode Gain
Fixed Gain mode: 25.4 dB
Line In – Balanced and Single-ended
Variable Gain mode: 14.5 dB – 34.5 dB
Standby power
<0.5 W
Dimensions Unit Dimension (WxHxD) – Gross
435 x 120 x 390 mm
Net weight
11.2 kg 
Shipping weight
13.6 kg